Inspired surroundings make for inspired meetings
A corporate retreat employees will actually want to attend
Imagine a morning of productive and insightful meetings followed by a relaxing round of golf in beautiful natural surroundings. The finishing touch? A delicious meal shared with co-workers and friends in a stunning private ballroom, followed by a relaxing night's sleep in luxurious accommodations. Now imagine the alternative—a boring day of meetings spent in a windowless room, followed by a mediocre meal, and a long drive home.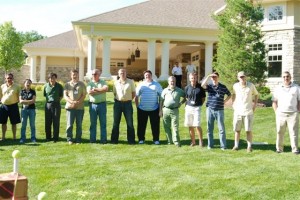 When you choose Tullymore for your corporate retreat or off-site meeting, your clients, customers, and employees will appreciate the memorable experience away from the office.
Tullymore offers two separate clubhouses to choose from, complete with customizable dining options. Whether you need a theatre-style setting for several hundred or an intimate meeting space for a few, we offer a variety of venues and facilities to suit your needs.
Contact Us or call Angie D'Amico at 1-800-972-4837 ext. 273 to organize your next conference or corporate retreat.