The Tullymore Classic
Tullymore Classic Huge Success in Every Way
Our third Tullymore Classic, one of several tournament events on the Symetra Tour's Road to the LPGA, was a resounding success in every way from start to the exciting finish!
The Tullymore Golf Course and all the grounds were in outstanding, beautiful condition; the Club Members,the staff and all the tournament volunteers were at the top of their game delivering excellent service and expertly fulfilling all their duties; Gary Lewandowski shined in his role as tournament director during the event and behind the scenes in the months beforehand; Chef Fred and his team provided superlative culinary cuisine throughout the week; all the sponsors did their parts in fine fashion to help with the success; and the Symetra professional lady golfers gave the spectators exciting daily play to watch while furnishing stiff competition performances that were sometimes spellbinding.
For instance, Germany's Sophia Popov chipped in for a birdie on Tullymore's #10 and holed out for an eagle on #3. She finished in a three-way tie for second with Lindsey Weaver of Ohio and Jessica Welch of Georgia.
All three at 15 under were just narrowly edged out of the champion's title by Yu Liu of Beijing, China, who scored a final 16 under for her first Symetra Tour win. She had finished in the top five of the prior two Tullymore Classics in 2015 and 2016.
This year Liu got off to a very impressive lead with eight under in her opening round, then fell to two shots off the lead after the second round but then came on strong to emerge as the 2017 champion. With her victory in our event she moves from #10 on the Volvik Race for the Card to #5. The top 10 on the Race's money list will earn their 2018 LPGA tour cards.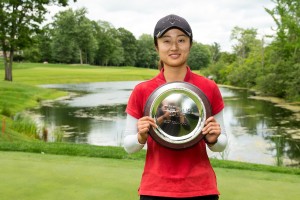 In the News 2017
Symetra Tour – Yu Liu Wins 2017 Tullymore Classic for first victory.
Click Here Staff Member and Former Symetra Tour Golfer Misia Conklin to play in Tullymore Classic
Symetra Tour –  Top 5 shots on Saturday at 2017 Tullymore Classic
LPGA – Social Recap Tullymore Classic
WZZM 13 – LPGA future stars take on Tullymore
wnwn.com – Tullymore Classic Week Arrives
In the News 2016
Holland Sentinel – Gabrielle Shipley misses cut by 1 at Tullymore Classic
mlive.com– Pair of golfers share lead at Tullymore Classic Symetra Tour event
Spin.ph – Dottie Ardina final-round surge not enough as Paola Moreno wins third Symetra Tour title
WZZM 13 – Symetra Tour returns with Tullymore Classic
Kitsap Sun – Silverdale's Lee tied for lead at Symetra Tour even
Golfblogger – Keeping Score, Labor of Love for Chris and Sandy Wernette at the Tullymore Classic
9 and 10 News
SpartanNash, Canadian Lakes Property Owners Sponsoring Tullymore Classic Pro-Ams
In The News Post 2015 Classic