The Tullymore Classic
2017 Tournament – Symetra Tour's Road to the LPGA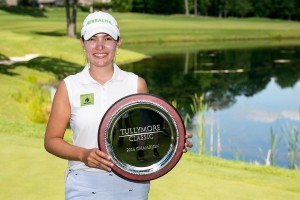 Tullymore Golf Resort continues to tee up golf excitement and is very proud to again be hosting the Tullymore Classic, featuring more than 140 up and coming women golf professionals. 2017 marks the third year for this thrilling golf tournament to be staged at the Resort's championship Tullymore Golf Course.
Dates for tournament rounds of the 2017 Tullymore Classic are June 30 – July 2, 2017. The event is one of over 20 on the Symetra Tour, the official qualifier for the LPGA.
The top 144 aspiring LPGA Tour players from all over the U.S. and the world will arrive at Tullymore to compete for a $100,000 tournament purse and LPGA Tour membership for the 2018 season. The 54-hole, stroke-play tournament will begin on Friday, June 30th, and conclude on Sunday, July 2nd. It is preceded by practice rounds and Pro-Am competitions – all open to public spectators. The top 10 players on the money list at the end of the 2017 Symetra Tour will earn LPGA Tour membership for the 2018 season.
Many of the 2016 Symetra Tour players who earned their 2017 LPGA cards competed in the Tullymore Classic. So don't miss this unique opportunity to see many of the top female golfers compete at Tullymore before they become stars of the LPGA!
Volunteer opportunities are plentiful and information about volunteering may be obtained by contacting Tournament Director Gary Lewandowski at glewandowski@tullymoregolf.com or 231.972.4837.
Click Here to view 2017 Tullymore Classic Schedule.
STAFF MEMBER AND FORMER SYMETRA TOUR GOLFER MISIA CONKLIN
TO PLAY IN TULLYMORE CLASSIC
Click Here to read full press release
VOLUNTEER – JOIN OUR TOURNAMENT TEAM!
Click Here to register online.
Click Here for a printable volunteer application.
Click Here to view Summary of Volunteer Opportunities.
Click Here to register for housing host online.
Click Here for a printable housing host application.
TULLYMORE CLASSIC PRO AM
The Pro Am provides the opportunity to play golf with an LPGA Symetra Tour Professional in an 18-hole scramble tournament. Do not miss the unique opportunity to play with the next LPGA Tour star in the official tournament Pro Am.
Registration is now open!  Click Here for Wednesday, June 28th registrations form and Click Here for Thursday, June 29th registration form,
In the News 2016
Holland Sentinel – Gabrielle Shipley misses cut by 1 at Tullymore Classic
mlive.com– Pair of golfers share lead at Tullymore Classic Symetra Tour event
Spin.ph – Dottie Ardina final-round surge not enough as Paola Moreno wins third Symetra Tour title
WZZM 13 – Symetra Tour returns with Tullymore Classic
Kitsap Sun – Silverdale's Lee tied for lead at Symetra Tour even
Golfblogger – Keeping Score, Labor of Love for Chris and Sandy Wernette at the Tullymore Classic
9 and 10 News
SpartanNash, Canadian Lakes Property Owners Sponsoring Tullymore Classic Pro-Ams
In The News Post 2015 Classic